DESCRIPTION
Hokkaido JaLS aims to support you to find the best fit possible
for your Japanese learning needs in a supported and flexible environment.
Autumn Course in Japan
This October, let's study Japanese whilst enjoying the spectacular autumn leaves and delicious seasonal food of the refreshing Hokkaido fall season!
Hokkaido is stunning at this time of year, and the changing colors of the fall leaves reach the north of the country before the rest of Japan. Reds, yellows and greens weave together in a beautiful vivid display that you can enjoy within the city of Sapporo itself, or through exploring the local countryside. This October, you can enjoy studying Japanese in a refreshing and comfortable climate, find the space to focus on your studies, and enjoy the many delicacies that Hokkaido has to offer in the autumn season.

In addition to taking 15 lessons of Japanese a week, and 2 cultural lessons and 3 activities a week.
Autumn Course
period

(Monday) 2nd Oct 2023 – (Friday) 3rd Nov 2023 (maximum 5 weeks)
Price

41,800

JPY / week
Level

Introductory to advanced (all levels)
Time

9: 30 ~ 12: 20 (1 day 50 minutes lesson 3 frames)
Club size

Maximum 8 people
Capacity

30 people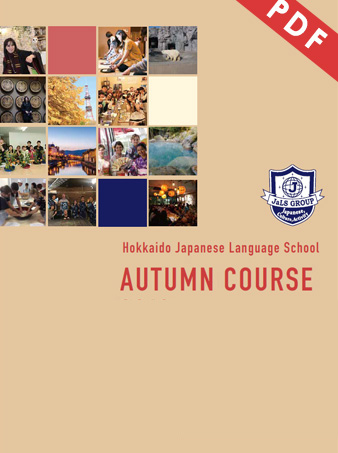 MORE DETAIL
Price Chart
10%OFF
1 Week
2 Weeks
3 Weeks
4 Weeks
5 Weeks
6 Weeks

41,800

JPY

83,600

JPY

125,400

JPY

167,200

JPY

204,820

JPY

242,440

JPY
Price Chart
1 Week

41,800

JPY
2 Weeks

83,600

JPY
3 Weeks

125,400

JPY
4 Weeks

167,200

JPY
5 Weeks

10%OFF

204,820

JPY
6 Weeks

10%OFF

242,440

JPY
Starting at week 5, you will receive a 10% discount for every extra week (

37,620

JPY)
The registration fee for all courses is

22,000

JPY
The learning materials for all courses are

4,000

JPY