DESCRIPTION
Hokkaido JaLS aims to support you to find the best fit possible
for your Japanese learning needs in a supported and flexible environment.
Spring Course in Japan
There are many special things that can only be found in Japan. Beautiful sakura, rich traditional culture, and delicious food are all waiting for you here in Sapporo. Why not join us at Hokkaido JaLS, make new friends, and a new place to call your own?With a variety of activities, fun classes, as well as warm, supportive, and welcome teachers and staff, there is never a dull moment at JaLS. We hope that you will join our family this spring!

In addition to taking 15 lessons of Japanese a week, and 2 cultural lessons and 3 activities a week.
Spring Course
Period

(Monday) 1st April 2024 – (Friday) 10th May 2024 (maximum 6 weeks)
Price

41,800

JPY / week
Level

Introductory to advanced (all levels)
Time

9: 30 ~ 12: 20 (1 day 50 minutes lesson 3 frames)
Club size

Maximum 8 people
Capacity

30 people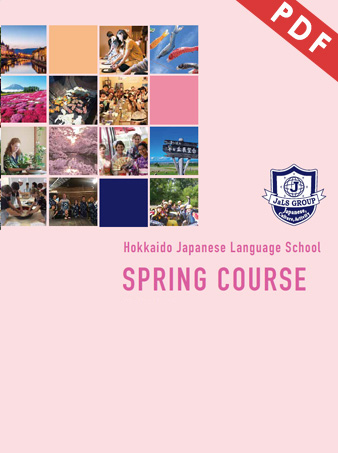 MORE DETAIL
Price Chart
10%OFF
1 Week
2 Weeks
3 Weeks
4 Weeks
5 Weeks
6 Weeks

41,800

JPY

83,600

JPY

125,400

JPY

167,200

JPY

204,820

JPY

242,440

JPY
Price Chart
1 Week

41,800

JPY
2 Weeks

83,600

JPY
3 Weeks

125,400

JPY
4 Weeks

167,200

JPY
5 Weeks

10%OFF

204,820

JPY
6 Weeks

10%OFF

242,440

JPY
Starting at week 5, you will receive a 10% discount for every extra week (

37,620

JPY)
The registration fee for all courses is

22,000

JPY
The learning materials for all courses are

4,000

JPY