DESCRIPTION
Kyoto JaLS aims to support you to find the best fit possible
for your Japanese learning needs in a supported and flexible environment.
Spring Course
In the season most famous for stunning cherry blossom, come and discover the specialities of Kyoto for yourself. Explore the places, the culture, the food, the people and the language. In order to give you the most exciting chance to discover Japan, Kyoto JaLS has designed a course filled with cultural lessons, activities and language study.
We are small and warm Japanese school offering many great experiences that we can enjoy together.

In addition to taking 15 lessons of Japanese a week, and 2 cultural lessons and 3 activities a week.
Spring Course
Period

(Monday) 1st April 2024 – (Friday) 10th May 2024 (maximum 6 weeks)
Price

47,800

JPY / week
Level

Introductory to advanced (all levels)
Time

9: 30 ~ 12: 20 (1 day 50 minutes lesson 3 frames)
Class size

Maximum 8 people
Capacity

30 people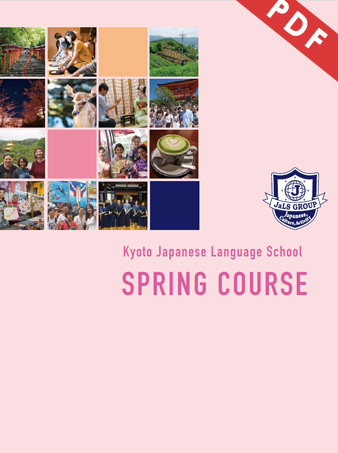 MORE DETAIL
Price Chart
10%OFF
1 Week
2 Weeks
3 Weeks
4 Weeks
5 Weeks
6 Weeks

47,800

JPY

95,600

JPY

143,400

JPY

191,200

JPY

234,220

JPY

277,240

JPY
10%OFF
7 Weeks
8 Weeks
9 Weeks
10 Weeks
11 Weeks
12 Weeks

320,260

JPY

363,280

JPY

406,300

JPY

449,320

JPY

492,340

JPY

535,360

JPY
Price Chart
1 Week

47,800

JPY
2 Weeks

95,600

JPY
3 Weeks

143,400

JPY
4 Weeks

191,200

JPY
5 Weeks

10%OFF

234,220

JPY
6 Weeks

10%OFF

277,240

JPY
7 Weeks

10%OFF

320,260

JPY
8 Weeks

10%OFF

363,280

JPY
9 Weeks

10%OFF

406,300

JPY
10 Weeks

10%OFF

449,320

JPY
11 Weeks

10%OFF

492,340

JPY
12 Weeks

10%OFF

535,360

JPY
Starting at week 5, you will receive a 10% discount for every extra week (

43,020

JPY)
The registration fee for all courses is

22,000

JPY
The learning materials for all courses are

4,000

JPY